The Oakland Folkharmonic is Shira Kammen and Kaila Flexer's new string ensemble featuring the two of them plus Kyla Danysh and sisters Rachel and Danielle Taylor on a variety of stringed instruments including violin, viola, vielle and tarhui. The repertoire of this ensemble ranges from traditional modal music of Greece, Turkey and the Middle East to medieval music to original compositions by Flexer, Kammen, Ross Daly and Kelly Thoma.
Pictured below: Shira Kammen, Danielle Taylor, Kaila Flexer, Rachel Taylor, Kyla Daynsh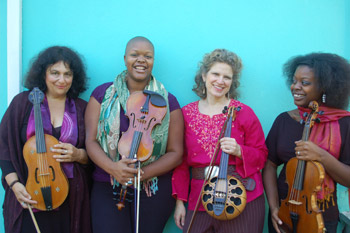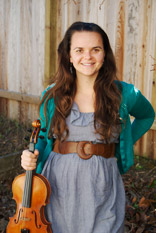 Come see the Oakland Folkharmonic in 2013:
SATURDAY, FEBRUARY 9, 2013 8:00 p.m.
Oakland
Double bill featuring:
Teslim (Kaila Flexer & Gari Hegedus) and
The Oakland Folkharmonic
Wisteria Ways
Reservations strongly recommended.
RSVP to: info@WisteriaWays.org (preferred) or call 510-655-2771
Donations, $15-$20 (sliding scale) cash only
---
SUNDAY, FEBRUARY 24, 2013 11:00 a.m. & 3:00 p.m.
BERKELEY
Cal Performances Presents:
First Stage for Families
Double bill featuring
Teslim (Kaila Flexer & Gari Hegedus) and
The Oakland Folkharmonic with fiddlers Kaila Flexer, Shira Kammen, Kyla Daynsh, Rachel Taylor, Danielle Taylor)
Wheeler Auditorium, on the UC Berkeley Campus
Tix and more info: http://calperfs.berkeley.edu/performances/2012-13/first-stage/kaila-flexer-oakland-folkharmonic.php